Prints
Our prints feature a collection of interesting scenery captured with a digital camera taken during various worldwide travels. Inspired to turn ordinary photos into wall art, these still life moments were digitally manipulated to create interesting patterns, arrays of color or enhance the mystique of simple black and white prints. Each print has its own interesting story!
Our current collection of prints are available as an instant download. Files will be delivered electronically. No printed item will be shipped.
You can take this to a professional printer and print on canvas or have it printed on heavy paper through a digital online printing service such as AmericanFrames.com, Snapfish, Shutterfly, etc.
To purchase our prints, simply click on an image and you'll be directed to our ETSY shop where you can directly check out.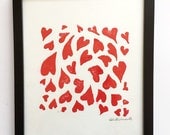 $18.00 USD